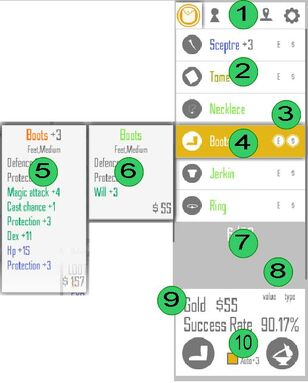 Inventory Panel
Edit
Change Panel
Items

List of Items currently NOT equipped

Equip and Sell buttons
Selected Item

When an Item is selected, it will be highlighted in yellow
The Item information Box will open up (6)
The Item Comparison Box will open up (5)
The Blacksmithing box will populate with information (9 & 10)

Equipped Item for comparison.

Note if no item, or incompatible item is currently equipped, this will not be shown.

Selected Item's Stats
Current number of items/Max number of items in Inventory
Sorting options

You may either sort them by value of item, or by type.
By default, items are shown in the order they were looted.

Blacksmithing Cost

The cost in gold to increase the item by +1, up to a maximum of +15

Blacksmithing

Show Success Rate of current increase
Item Type (Boot, Jerkin, etc)
Auto increase toggle ( if you have sufficient Blacksmithing Skill)
Click Icon on right to Smith.